WE'RE BACK!!
OPENING TIMES:
Monday – Thursday: 11.00am – 10.00pm
Friday – Saturday: 11.00am – 11.00pm
Sunday: 12.00pm – 10.00pm
We look forward to welcoming you back!
CORONA VIRUS OUTBREAK
As you will not have failed to notice the uk and world has been subject to the effects of the Covid 19 pandemic. As a result we were forced to close our doors by the enaction of the Corona Virus act 2020. Thankfully the main danger has passed and restrictions are being lifted which will allow us to re-open from the 4th July. The Uk governments advisors have classified the current situation at level 3 on their alert system which means the epidemic is in general circulation but the transmission is no longer high or rising exponentially.
We wish to make the following very clear to our customers. It is the view of this business that you cannot "control" a viral infection that is in the community. it is possible to mitigate the potential for transmission from an infected person and we have taken all sensible steps to do this however we also have to remember why people visit us and that is to socialise and relax in the company of friends. That said the prevalence of the virus in North Lincolnshire has been very low with 524 cases and 1 in the last 10 days however if you have any concerns that the measures we have taken aren't sufficient to make you feel safe then we fully respect your decision not to visit the club until such time as you do.
We have carried out a risk assessment which you can view below and provided links to other relevant information sites.
We would ask all our returning customers to please be aware of your surroundings when in proximity to other people and respect their space, please
note the signage we have put up that when followed will alleviate close contact at those spots in the club which are pinch points with closer  contact with others more likely. Please do all you can to maintain a safe distance from others.
Finally we would like to say if you are coming back to us we can't wait to serve you and it is great to be back!

New teams for Mulligan's and the Mulligan's Tuesday Pool league
Registration for new teams is Thursday 27th February At Mulligan's from 7pm with chairman Matt Smithson.
Cue offer!
and amazing cue and case package offer
As well as the cue stock arriving we are pleased to announce this amazing offer… 1 x 3/4 ash ebony butt cue, 1 X soft case, 2 x memberships, 2 x hours table time.
All for just £35 all in. 
Excellent turn out at Mulligans today for the Syd Smaller Memorial Cup. Syd would have been very proud today for sure.
63 players but there could only be one winner. Well done to Leighton Bennett who came out the winner against Reece Robinson in the final.
In the Semi final Recce beat Richard Beck and Leighton beat Ross Twell.
The furthest lady prize went to Sam Lewis.
It was great to see some old faces today and it was really good to see the event supported by Syds wife Sally and his Daughter Louise.
You can always tell a good day when players leave their darts behind and I think at the last count there were 3 who did this ???!
Ultra White Collar Boxing
Back in SCUNNY!
Mulligans FC
Clinched the League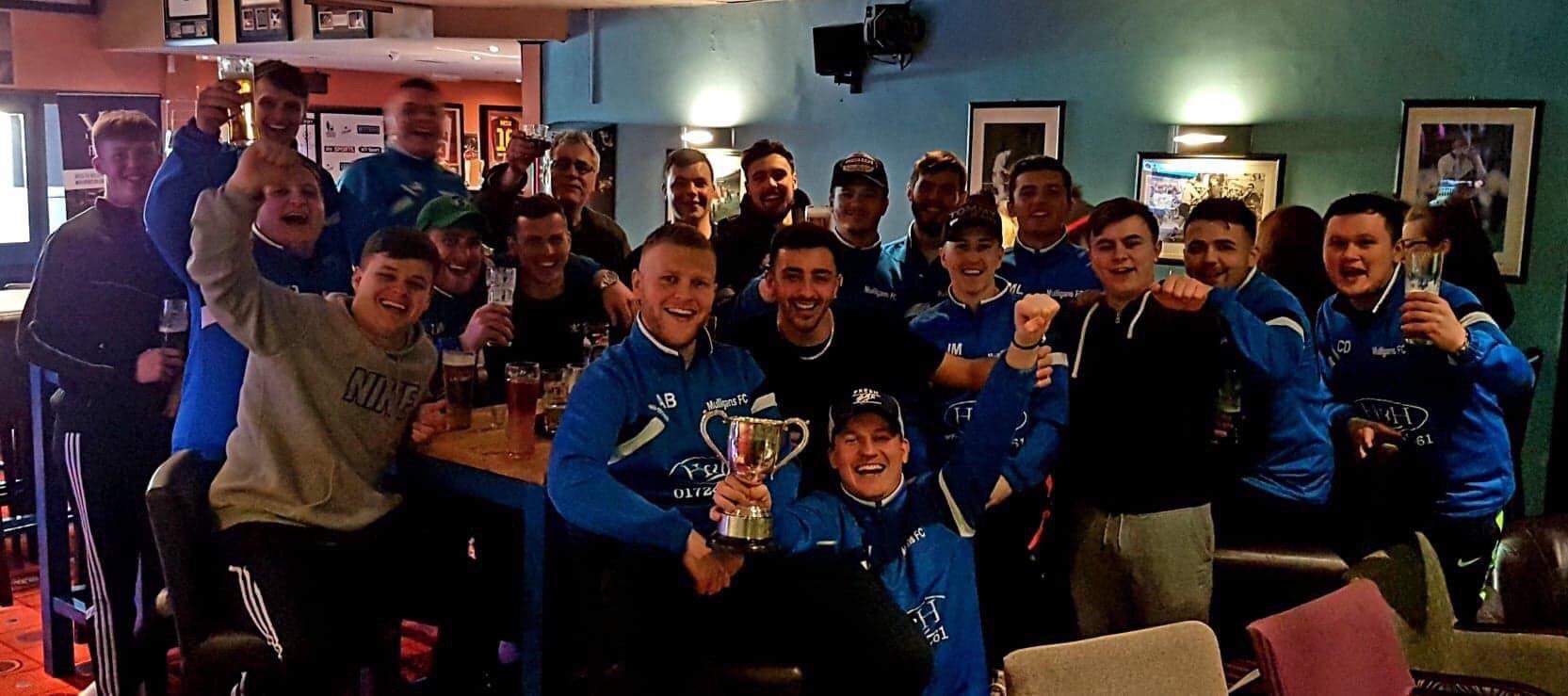 Reece Brown, Mason Leaning, Mitch Lusby, Connor Horner, Cameron Houson, Liam Wright, Joe Pound, Ryan Walker, Seb Duranti, Chrissy Johnson, Cameron Dunn, Micky Gray, Dayle Hutson, Joe Moloney, Zak Edgar, Jordan Belk, Ash Barker, Josh Armer, Keir Turner-Trevylan, Fabio Snow, Harry Osborn, Clyne Moore, Will Watson, Jordan Lane, Brad Davison Scott, Brad Byrne, Lewis Hind, Curtis Bateson, Kory Brown & Adam Birkett
Watch the match and have a game of pool in luxury  with friends\\colleagues for that special event or party at Mulligans.
No packages. We will adapt to your needs.
Call 01724 844866 or BOOK NOW
Welcome to Mulligans
Come and experience our fantastic venue, we cater for all social occasions and events from a chilled out meeting place, to a party atmosphere. We also offer great food and drink with friendly staff & FREE car parking. We have the best seats in town to watch live sport why not give us a try.
10 English pool tables
6 Snooker
1 American pool table
8 Dart boards
3 Poker tables
2 Giant HD screens
7 Large HD flat screen televisions
Fully licensed bar
£400 jackpot gaming area
Air conditioning
Beer garden with outside television
Free WIFI

Here at Mulligans we have a wide range of sports to play including snooker, English & American pool as well as darts and poker. Why not have a game with your friends.

The menu at mulligans offers a wide range of great quality bar meals & snacks. Bit peckish while watching the game? Eat, drink and play all under one roof. PREMIER LEAGUE SEASON… WATCH ALL THE FIXTURES AT MULLIGANS
CHAMPIONS LEAGUE … WATCH ALL THE FIXTURES AT MULLIGANS
A warm welcome awaits you at Mulligans
"The unrivalled meeting place"
CHECK OUT OUR SPECIAL DRINKS PROMOTIONS
MEMBERSHIP AND TABLE TARIFF