Drinks & Promotions
We offer a great stocked bar from draught beer & ciders, wines, spirits, bottled beer from around the world as well as soft & hot beverages.
DRAUGHT BEERS  & CIDERS
Carling, Coors Light, Worthingtons, Strongbow, Strongbow dark fruits, Guinness, Pravha, Carling Premier.
---
WINES
A selection of white, rose and red wines available by the bottle or glass.
---
SOFT DRINKS
Pepsi, Diet Pepsi, Whites Lemonade, Britvic 55 Orange, J2Os, Appletiser, Fruit Shoots.
BOTTLED BEER FROM AROUND THE WORLD
Budweiser, Desperados, WKD blue, Smirnoff Ice, VK, Bulmers, Tyskie, Birra Moretti, Rekorderlig.
---
SPIRITS
Grey Goose, Smirnoff Vodka, Jack Daniels, Bells, Three Barrels , Bacardi, Captain Morgans , Bombay Sapphire, Gordons, Southern Comfort, Archers, Malibu, Taboo, Sourz, Corkys, Sambuca, Disaranno, Tequila, Jagermister, Ciroc, Kraken, Tanqueray, Sipsmith.
---
CRAFT BEER
Doom bar, Hobgoblin, Abbot Ale, Caledonian Coast to Coast, Lagunitas IPA.
FIZZ FRIDAY & SATURDAY – AVAILABLE ALL DAY*
ITALIA PROSECCO
Only
£9.95
PREMIUM GINS
& VODKAS
Includes Pepsi or lemonade mixer
£2.60
BOTTLES OF WINE
Available from
£7.95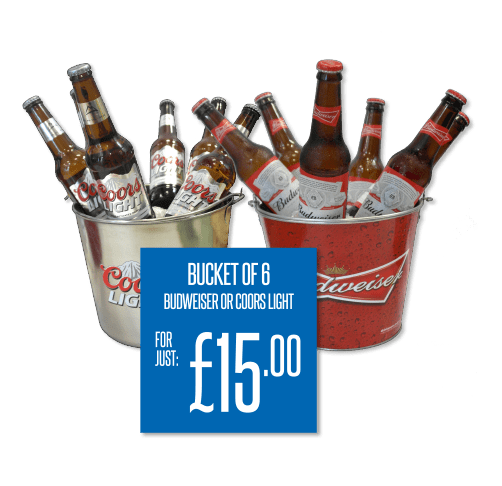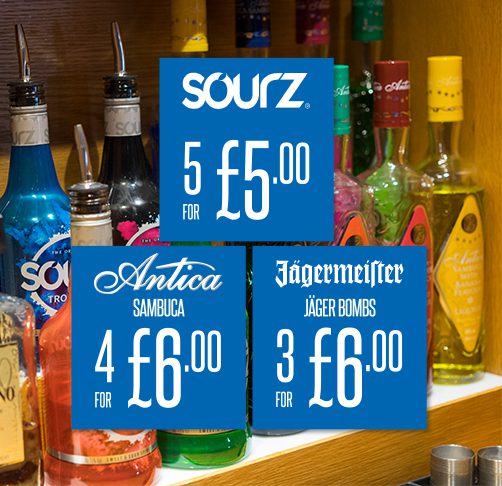 Available all day everyday*
*subject to availability, management has the right to refuse offer at any time.
BEER GARDEN
Enjoy a nice cold pint on those warm evenings in our beer garden with outside TV.